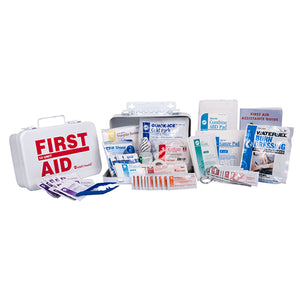 Convenience: Small items are organized together in moisture resistant, resealable bags. Cases can be wall mounted. A contents list, located in the lid, assists in restocking supplies.
Versatility: The HART #10 ANSI Bulk First Aid Kit is designed to provide complete first aid protection in a wide variety of workplace situations and will serve up to 10 people.
Quality and Economy: Containing the highest quality fills, HART kits offer exceptional value.
Durability: The HART #10 ANSI Bulk Kit is housed in a rugged steel box with a baked enamel finish, piano-hinge cover, hanging bracket, separate carrying handle and features a weather proof gasket seal. These kits are labeled with "First Aid" on the cover for quick identification.
Bulk kits are designed to meet the first aid needs of the workplace.
Comprehensive fill of exceptional quality
Convenient and versatile
ANSI 2015 Class A
For up to 10 people
Economically priced
Rugged metal box

Metal Box Size: 7-3/4" x 5" x 2-1/2"
Contents List

Qty
Item #
Description

1

Adhesive Tape, HART, 1/2" x 2.5 yard roll

2
2306
ABD Combine Pad, 5" x 9"
16
0110
Adhesive Bandages, Sheer 1" x 3"
1
2973
Burn dressing 4" x 4"

1

Cold Pack, instant cold, 5" x 6"

1
2954
CPR Faceshield with valve
2
0270
Eye Pad, sterile
1
4726
Eye Wash, 1 ounce
10
5391
First Aid and Burn Cream

1

First Aid Guide Booklet

1

Forceps, plastic, disposable

2
1833
Gauze Pad, sterile, 3" x 3"

1

Gauze Roll, stretch, sterile, 2" x 4.1 yds

1

Gloves, vinyl, pair

6
5399
Hand Sanitizer, 0.9 gm

1

Scissors, First Aid Kit type

10
5484
Triple Antibiotic Ointment, HART, 0.5 gm

1

Triangular Bandage, non-woven, with pins

10
6197
Wound Wipes