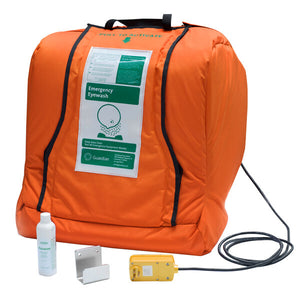 G1540HTR
AquaGuard Gravity-Flow Portable Eyewash, 16 Gallon, with Heated Orange Insulation Jacket
Application: Self-contained 16 gallon gravity-flow eyewash unit is ideal for use in low traffic areas, and where a continuous supply of potable water is unavailable for plumbed units. Unit is heated and insulated to endure low or freezing temperatures over long periods of time. Unit is fully freeze-resistant and tempered, for both indoor and outdoor environments. Rugged plastic tank is wall mountable near any hazard. Unit uses gravity to deliver approximately eight gallons (30 liters) of water for 15 minutes through dual spray heads, thus complying with the provisions of ANSI Z358.1-2014 for eyewashes.
Tank And Jacket: 16 gallon capacity safety green polyethylene tank. Tank has built-in carrying handle, heavy wall construction and reinforced ribs to support weight of unit. Highly visible orange Diener Nylon insulation jacket is waterproof, mildew resistant, easily cleaned, quick drying, abrasion resistant and has excellent strength. Activation is easy with the nylon pull down strap that is secured in place by Velcro strips.
Heating Pads: Heating pads are made of silicone rubber and are attached with pressure sensitive adhesive. Total amp draw of the unit is 4A and delivers 410 Watts of power, which allows the unit to operate to temperatures as low as -20°F.
Electronic Temperature Controller: The electronic temperature controller has an easy to read LCD screen for viewing the temperature and a green LED status indication light to let the user know when the heating pads are activated. The controller is factory set at 80°F and has a keypad lockout feature.
Ground Fault Plug: Unit comes standard with a highly visible yellow 15A GFCI Ground Fault Circuit Interrupter with manual reset connected to a 9 foot long cord.
Spray Head Assembly: Water flow is activated by pulling down on bright yellow eyewash tray. Integral full-flow nozzles deliver a soft spray of water. Swing tray up to storage position to stop flow.
Drain: Waste water is directed into drain opening in tank basin. Furnished with 3 ft. long drain hose in basin to direct discharge into floor drain, storage tank or other receptor.
Mounting: Furnished with zinc plated steel bracket for mounting unit on wall. Unit can also be placed on countertop or other flat surface.
Preparation: To operate unit, fill with clean potable water and add bacteriostatic additive (supplied with unit). Additive protects against growth of bacteria, fungus, algae and acanthamoeba. Unit should be inspected regularly and water should be changed at least once every six months.
Discharge Time: Eyewash delivers 0.5 gallons per minute for 15 minutes.
Weight: 19 lbs. (8.6 kg.) empty, 164 lbs. (74 kg.) full.
Quality Assurance: Unit is completely assembled, and electrically and water tested prior to shipment.
AVAILABLE OPTIONS
G1540BA-R

8 oz. bottle of bacteriostatic additive to protect against growth of bacteria and other impurities in portable unit. (Case of 4) Note: One bottle supplied with unit.