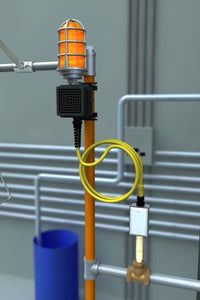 AP275-100
Combination Steady-On Light and Alarm Horn for Safety Stations
Application: Combination steady-on light and alarm horn unit for safety stations. Steady-on light activates and alarm horn sounds loudly when eyewash or shower is activated.
Installation: Unit is designed for use with combination safety stations, and can be mounted on either the vertical pipe of the station or on a wall adjacent to the unit. 120 volt, 0.3 amp electrical supply is required.
Visual Signal: 14 watt, 1060 lumen LED light with weatherproof, shatter-resistant amber lens and protective metal grid.
Audible Signal: Weatherproof horn delivers distinctive, urgent signal. Volume is preset at 100 db at 10 feet. An adjustment screw on the front of horn allows adjustment of output sound level.
Flow Switch: 1-1/4" IPS single pole, double throw waterproof flow switch for installation in water supply line to emergency unit. Switch senses flow of water when either the eyewash or shower is activated. Flow switch must be installed with tee fitting in horizontal position, flow switch body in vertical position and at least 6" from closest fitting. Direction of flow is marked on switch body.
Mounting: Furnished complete with bracket for mounting on vertical pipe or wall, junction box and 5 foot flexible NEMA 4X cord and receptacle. Electrical connection by others.
Quality Assurance: Unit is fully assembled, wired and factory tested prior to shipment.
AVAILABLE OPTION
SW

Silencing switch for alarm horn.
ADDITIONAL MODEL
AP275-105

Same as above except with double pole, double throw flow switch for connection to monitoring system. When emergency unit is actuated, light and horn activate and electrical signal is sent to remote monitoring location.