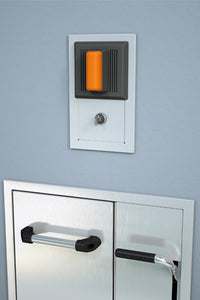 AP280-237
Combination Strobe Light and Alarm Horn for Recessed Laboratory Units, with Silencing Switch and Remote Sensing Flow Switch Assembly
Application: Combination strobe light and alarm horn for recessed laboratory units. Strobe light activates and alarm horn sounds loudly when recessed eye/face wash or shower is activated. Alarm horn and light unit is recess mounted in wall. Ideal for use in finished spaces, including laboratories and clean rooms. Furnished with keyed silencing switch to silence alarm horn during weekly ANSI testing. Also includes additional contacts for connection to remote monitoring system.
Silencing Switch: Ideal for weekly ANSI testing. Turn key to silence alarm horn during unit activation. Key cannot be removed until switch is returned to normal (audible) position. One key included per unit.
Installation: Unit is designed for use with recessed laboratory units. Combination strobe light, alarm horn, and key switch is mounted on a stainless steel cabinet designed to recess into wall. Flow switch and electrical wiring are located behind wall. 120 volt, 0.11 amp electrical supply required.
Visual Signal: Amber strobe light with shatter-resistant lens.
Audible Signal: Horn delivers distinctive, urgent signal at 90 db.
Flow Switch: 1" IPS double pole, double throw waterproof flow switch for installation in water supply line to emergency unit. Switch senses flow of water when either the eye/face wash or shower is activated. Additional contacts send electrical signal to remote monitoring location. Flow switch must be installed with tee fitting in horizontal position, flow switch body in vertical position and at least 6" from closest fitting. Direction of flow is marked on switch body.
Mounting: 16 gauge stainless steel cabinet with flange featuring 3/8" return for recessed mounting in wall. Cabinet includes 1/2" top and bottom conduit knockouts for electrical connection. Unit fits in standard 3-5/8" deep wall. Electrical connections by others.
Quality Assurance: All components are factory tested prior to shipment.
ADDITIONAL MODEL
AP280-232

Same as above except with single pole, double throw flow switch for activating local alarm only.