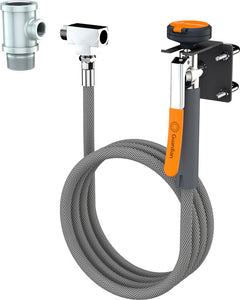 G5011
Drench Hose Unit, Retrofit Kit
Application: Retrofit existing safety stations and wall mounted or pedestal mounted eye and eye/face washes with auxiliary drench hose. Ideal for rinsing any part of user's eye, face or body. Note: Under ANSI Z358.1-2014, drench hose units supplement, but do not replace, other types of emergency equipment.
Spray Head Assembly: Single FS-Plus™ spray head. Spray head has 'flip top' dust cover, internal flow control and filter to remove impurities from the water flow.
Valve: Forged brass squeeze valve activated by stainless steel lever handle. Valve has replaceable stainless steel seat for exceptional durability. Valve closes when lever handle is released.
Hose: 8' reinforced PVC hose. 275 PSI maximum working pressure.
Mounting: Wall mount with included steel bracket or pipe mount with included 1-1/4" IPS pipe U-bolts.
Supply: 1/2" IPS chrome plated brass tee and 1-1/4" x 1/2" NPT reducing tee included. Connections also include close nipples to facilitate retrofit installation.
Sign: ANSI-compliant identification sign.
Quality Assurance: Assembled and water tested prior to shipment.
AVAILABLE OPTIONS
FSH

8 ft. flexible stainless steel hose in place of PVC hose.

LC

Locking clip for valve handle. Valve stays open until locking clip is released.

VB

In-line vacuum breaker for installation between valve and spray head.