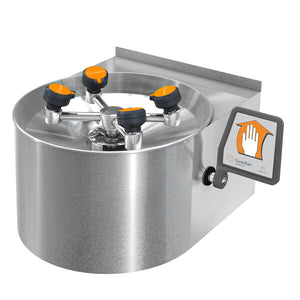 G1721
WideArea™ Eye/Face Wash, Wall Mounted, Stainless Steel Bowl and Skirt
Application: WideArea™ eye/face wash for wall mounting. Unit has stainless steel bowl and wrap-around skirt to conceal valve, drain and piping. Ideal for laboratories and other areas where clean, uncluttered appearance is desired. Four GS-Plus™ spray-type outlet heads deliver a flood of water over a wide area of coverage for complete rinsing of eyes and face.
Spray Head Assembly: Four GS-Plus™ spray heads. Each head has a "flip top" dust cover, internal flow control and filter to remove impurities from the water flow.
Valve: 1/2" IPS brass stay-open ball valve. Valve is US-made with chrome plated brass ball and PTFE seals.
Bowl: 11-1/8" diameter stainless steel with wrap-around skirt.
Mounting: Welded stainless steel wall bracket.
Supply: 1/2" NPT female inlet.
Waste: 1 1/4" NPT female outlet.
Sign: ANSI-compliant identification sign.
Quality Assurance: Unit is completely assembled and water tested prior to shipment.
AVAILABLE OPTIONS
G6020

 

Thermostatic mixing valve to blend hot and cold water to deliver tepid water. Valve has flow capacity of 13 gallons (49 liters) per minute at 30 PSI (2.1 bar) pressure drop. Valve can be used to supply emergency eyewash, eye/face wash or drench hose unit. Depending on water supply size and pressure, valve can supply multiple units.

HS

 

Auxiliary hand-held drench hose for rinsing eyes, face or body.

T

 

Chrome plated brass tailpiece and trap with 1 1/2" IPS waste connection.

TP

 

1 1/2" OD chrome plated brass tailpiece.