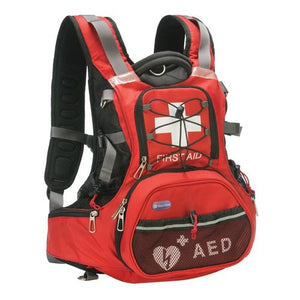 A heart-safe solution that enables you to readily transport a HeartSine samaritan AED, spare Pad-Pak or Pediatric-Pak, first aid kit, CPR prep kit, plus other necessary items to virtually any location.
"AED" is prominently displayed on the backpack to alert rescuers to the AED inside.
Larger compartments in the backpack allow for storage of the AED, extra Pad-Pak, and first aid kit.
Small storage pocket, mesh side pockets with an adjustable cordlock for storage of a water bottle and snacks
Adjustable chest and waist straps to fit adults or children.
Padded back for extra comfort
Reflective safety strips
Backpack is sold alone; AED unit, first aid kit and all other materials shown are each sold separately.